Veal chop Milanese style is a typical Lombard recipe, whose origin has long been disputed by the Austrians. In the 19th century, during the occupation of Milan, the Austrians confused their Wiener Schnitzel, a thin slice of meat coated with flour and breadcrumbs and then fried, with the Lombard recipe. Throughout the domination, the recipe was the subject of a real dispute. The Italians and Austrians claimed its origin and name: Milanese or Viennese?
It was only thanks to Marshal Radetzky, commander-in-chief of the Austrian army, that the dispute came to an end. Indeed, Radetzky, in a letter addressed to Count von Attems, who was close to Emperor Franz Joseph I, told of having eaten this dish in Milan for the first time. This letter describes the recipe in detail, officially acknowledging its Milanese origin.
To this day, the recipe for Milanese chops is often confused with that of the Viennese escalope à la viennoise. The two recipes differ in the choice of meat and in the way they are cooked.
Ingredients for 4 persons
Veal chops – 4
Eggs – 2 beaten
Breadcrumbs – 200 g
Butter – 200 g
Fleur de sel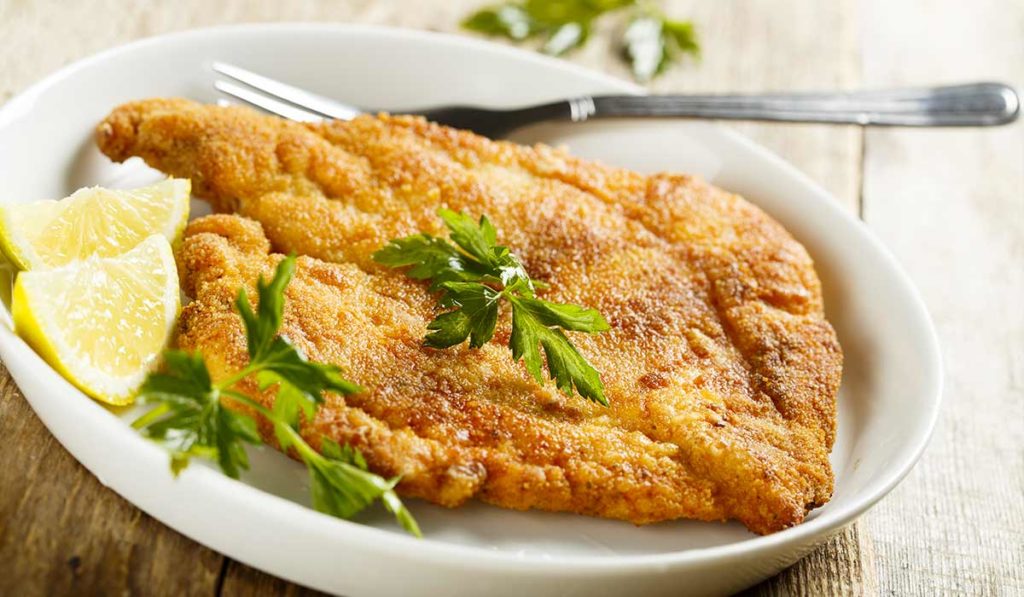 Preparation of veal chops Milanese style
To make this recipe, lightly clean the chops by removing the excess, without beating them. Then pass both sides of the meat through the beaten egg (without salt) and then through the breadcrumbs, making sure that the layer of breadcrumbs is even.
Heat the butter in a large frying pan. When it begins to brown, add the chops and cook over medium heat until a crust forms, then turn them over. Finally, as soon as the meat is breaded on both sides, lower the heat and cook for another five minutes, turning them over one last time. Salt and serve!
Arrange the chops on a dish and garnish with lemon slices.
Tips
If cooking two chops at a time, use half the butter and clean the pan before frying a second time.